Documents
I
24.11.2010 18:56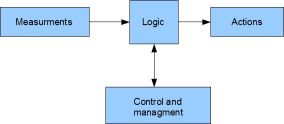 Measurments:
- temperature
- air pressure
- light sensor
- querry for hydro-meteorological data from ARSO
- energy consumption
Actions:
- opening/closing passageways
- managing air conditioners
- keeping the staff informed of irregular/critical status
...
Z
11.02.2011 00:32

[14:10:37] Andrej Krevl: Ojla fantje!
[14:10:54] Andrej Krevl: Nujno rabim povzetek vaše predstavitve, pa imena tistih, ki bodo predstavljali...
[14:13:19] David Božjak: pozdrav. kot povzetek imam pripravljene zgolj smernice: https://lusy.fri.uni-lj.si/redmine/projects/eneraptor/wiki/Presentation_and_documentation
...